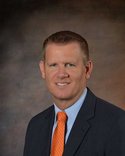 Principal - Dr. Jody Dean
478-929-7858 x-41310
Dear Students and Parents,
Welcome to the 2019-2020 school year at Northside High School. First of all, I'd like to thank you
for giving me the opportunity to serve you as the principal of the best school anywhere. I
encourage and welcome calls, emails and visits from parents as we encourage your continued
support and participation in every aspect of your child's high school career. My primary goal is to
create a learning atmosphere true to our mission statement: to produce high achieving students.
As a part of growing into adulthood, students are offered many excellent opportunities to
participate in extra-curricular and co-curricular programs at Northside High School. These
programs are second to none in the advancement of academic support and camaraderie among
students. Students who invest time and effort in a worthwhile cause reap benefits and memories
that go with them long after they leave high school. We invest in our students today so they will
continue to invest in the world we live in tomorrow.
My family and I are happy to be a part of this community. I consider it a privilege to work with
students, staff, parents, and community members to provide a quality education to all students in a
safe environment. Please let me know if I can be of assistance in any way. Together we will
continue to make Northside High School the best school anywhere!
It's GREAT to be a Northside Eagle!
Dr. Jody Dean, Principal